Companies in a variety of industries worldwide run more efficiently when they outsource business processes to us.
Energy
Our energy expertise help you make processes leaner, assets more cost-effective, and documents smarter. Learn more

›

Manufacturing
Autos to sporting goods. Computers to appliances. Xerox services help leading manufacturing companies manage a tough business environment. Learn more

›
#1 Rankings
Higher Education – #1 largest provider of Federal Perkins Loan services Hi-Tech and Telecommunications – Ranked #1 in U.S. Inbound Teleservices by "Customer Interaction" Transportation – #1 largest provider of transportation services for governments with $37 billion in public transit fares collected annually
Share this page: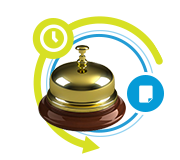 Marriott
Faster access to electronic documents improved satisfaction, cash flow and supplier management.
See Marriott case study

›
City of Indianapolis
Our new solution solved problems of aging parking systems, increasing costs and stagnant revenues.
See Indianapolis case study

›